Back to all publications
COVID-19 Pānui and Pātai (Q&A) Week - 20-24 April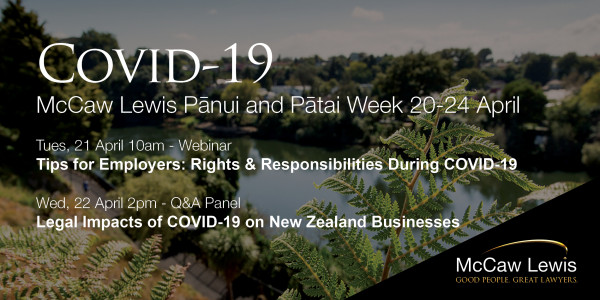 As we approach the end of the initial four-week lockdown at alert level four, many businesses are now considering how they will navigate through the various alert levels and 'new normal' over the coming months. As we face these changes and challenges, we invite you to two events which will provide insight and practical guidance to business leaders as part of our 'Pānui and Pātai (announcements and Q&A) Week'
Prime Minister Jacinda Ardern is due to announce on Monday if we will remain at alert level four for longer than four weeks, or whether we will start to come out of the highest alert level. This announcement will impact almost all businesses.
On Tuesday 21 April at 10am Director Renika Siciliano will be taking you through some of the current challenges and related employer responsibilities. Click here to register.
The following day we'll host a 2pm panel Q&A with some of our senior legal team covering the legal implications to businesses of recent changes and announcements surrounding COVID-19. Click here to register.
During the week our team will also be answering some of their clients' most frequently asked questions here on our website and over on our social media channels: Facebook and Linkedin.
If you're looking for guidance related to Covid-19, we have several publications you can view here.
Back to all publications